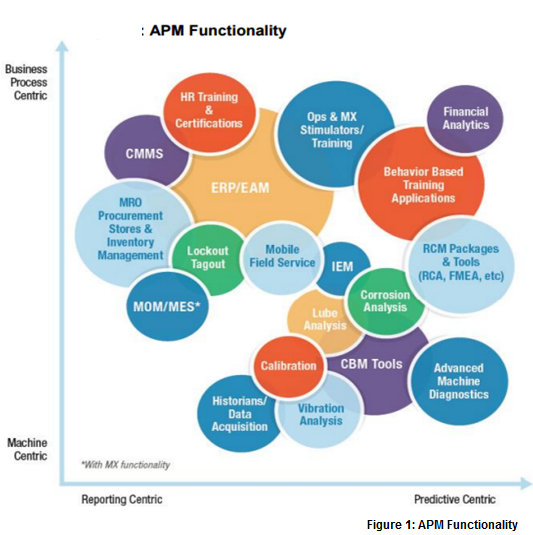 Our Asset Performance Management (APM) survey continues to provide end-users valuable insight on the industry specific value propositions, ecosystem of APM capabilities, and best practices for the metrics used and organizational design. One area that should get the attention of vendors providing APM solutions are our findings on the expectation end-users have on the expectation of timeline for Return on Investment (ROI).
Understanding the APM Landscape
LNS Research defines the APM market as a wide breadth and depth of business process and machine centric capabilities that go across reporting and predictive functionality (See Figure 1). Vendors can span the space with enterprise level solutions providing multiple facets of functionality, to single offerings with deep capabilities and the expertise to support it. End-users typically determine the right mix based on business requirements. Ultimately, the decision to buy is based on the return on investment and how quickly end-users can prove the implementation was a success to senior management.
End-Users Expect Quick Time to Value
When looking at our APM survey responses for the requirements end-users have when approving Software and Services investments, the data provides interesting insights. Over 70% of respondents have an expected return on investment within 18 months or less in order for a project to be approved. An even bolder expectation is that 36% expect a return in less than one year!
Asset intensive organizations are under tremendous pressures balancing capital and operation budgetary dollars between maintaining aging infrastructure, while investing in new smart connected assets. Because of the increasingly fast paced dynamics and change with new technologies, security concerns, and regulatory requirements it's easy to understand why end-users are more likely to consider projects showing a 12 month or less return on investment. These projects are what gain the attention at the senior management level, and allow for increased investment for future projects.

Ideas to Achieve a Quick ROI:
Choose incremental implementations, verses enterprise "big bang" approach. Almost 45% of our respondents indicate deploying APM solutions at one site, then rolling out from there. As discussed the APM landscape is large and complex, and this can create issues with integration and deployment when trying to combine multiple solutions from different vendors together. Vendors providing modern platforms, including IIOT, can support these initiatives and shorten time to value.
Get predictable with costs. A SaaS approach is typically best way forward here. Over 53% of our respondents report to having on premise deployments, but more increasingly end-users are moving to cloud based deployments, to the tune of 46%. This makes sense, most pricing models for SaaS have predictable and stable costs, increasing chances of quick ROI. Beware of some pricing models that charge by the amount of data loaded into the system. This can create some unpredictability in cost, but vendors going this route do provide tool to help cap the costs. Organizations can have quick ramp up times on the solution and then can add capabilities and users as knowledge and use cases are proven, allowing the end-user base to grow over time.
Work with innovative vendors. End-users should work with vendors who back up value propositions with documented ROI results and references in the industries served. Vendors who continually innovate should be able to provide the quick turn to ROI not only in the short term, but lasting returns. End-users who select innovative APM solutions will be able to adapt to changing industry conditions, and prove the long term value of investments.
The APM functional landscape includes vendors providing capability at an enterprise level down to niche requirements for specific industries. Whether end-users are investing in solutions large or small, requirements on ROI are the same, they need the capabilities now and want them implemented quickly. Dynamic industry conditions and unsure economic environment drive the decisions to buy, and organizations selecting solutions within the APM landscape are in the driver's seat with the expectation of ROI.
Gain a year of free access to new research in our IoT Research Library by completing a survey.