Another year comes to an end! I hope you attained your personal and professional goals this year. I had an exciting year with LNS Research; we launched research on...
We also examined the quality and Quality 4.0 trends in pharmaceuticals, medical devices, and automotive industries and developed frameworks and approaches for success. LNS also conducted multiple onsite quality advisory sessions and workshops for technology vendors and manufacturers. Additionally, we launched two new surveys, led two executive roundtables (thank you to the hosts Newell Brands and Whirlpool), and presented at several corporate events including ASQ' Quality 4.0 Forum.
2018 was a busy year, and an exciting one to be in the quality space. Today, there are unprecedented opportunities to attain accurate insights into quality execution, management, and strategy, to unlock innovation, and to overcome traditional barriers to quality success.
So, what does next year hold? Well, barring major disruption, an acceleration of the same. Here are the top trends in quality as I see them.
Trend 1: Quality 4.0 - Growth and Engagement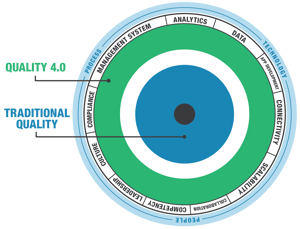 Quality 4.0 is going to be a sustained trend for the next decade, growing in maturity with widespread adoption. When I coined the term and published the definitive research, many, including technology vendors, didn't see the need. However, in the two years that have ensued, the digital transformation of quality has accelerated. 13.8% of the market has an initiative currently underway, and many chief digital officers (CDOs) and chief information officers (CIOs) have Quality 4.0 as one of their top three transformation initiatives.
LNS statistics indicate continued Quality 4.0 acceleration, and interestingly the ASQ Quality 4.0 Forum had 60% year-over-year attendance increase.
Our latest research focuses on Quality 4.0 technology selection. It also examines repeatable use cases in pharmaceuticals and medical devices and how these use cases can be connected to drive better outcomes. Life science firms are among those looking to Quality 4.0 for improvements, and as others learn how to duplicate successes, we expect a significant upswing in Quality 4.0 project and technology selections.
If you are in quality and haven't learned about Quality 4.0, do it now. Early adopters are achieving impressive results.
Trend 2: The Faster Pace of EQMS Adoption
Our research shows that enterprise quality management software (EQMS) adoption has increased in the past few years. Many factors have contributed to this, including a changing focus on the value of quality technology, the onset of the cloud EQMS to improve the speed and cost-effectiveness of implementations, maturation of long-established technology providers, and the arrival of a host of new tech vendors.
We pegged growth at 27% year-over-year, with some favorable tailwinds in 2019. For the quality leaders, these changes mean easier and better options that drive more awareness and improved outcomes. However, for all of those looking to select technology, don't just pick a shiny new toy. Go through the appropriate selection process.
Trend 3: Stability?
The EQMS market has changed a lot in the past 18 months, with several mergers and acquisitions (M&A) following Veeva's entry into the market. For many of the vendors, this has resulted in new top management from large enterprise players. While unfamiliar with EQMS, they bring a wealth of knowledge and improve marketing, sales, and value realization.
The M&As create benefits and risks to customers and prospects. The new leadership tends to invigorate and improve the existing firm, often resulting in a tighter strategy, better alignment to manufacturers' top management (which can help quality leadership), and the introduction of new technology and concepts. This often results in increased growth. Growth is right – it means more investment and stability for vendors. New tech is also good, as EQMS is not cutting-edge tech for the most part.
The risks to prospects and customers may be that their favorite vendor increases prices for software and services while reducing investment or losing focus on existing customers. One challenge that vendors often face in an M&A is that a few years after the acquisition and the honeymoon period, they are deprioritized. Though in my conversations with the EQMS leaders and acquiring organizations, they didn't flag this as a risk in the short term, but instead with good results and integration, the leaders believe there will be success in the long-term.
Overall, EQMS market will be expected to improve its competitive stature in the next several years and deliver higher growth rates.
Takeaways
This upcoming year, there will have a heightened emphasis on Quality tech - traditional (EQMS) and Quality 4.0. Anticipate a competitive EQMS market that drives more value and success for the tech vendors and manufacturing customers.
Categories: Enterprise Quality Management System (EQMS), Quality 4.0