In the 18 months since LNS coined Quality 4.0 and provided the definitive frameworks, manufacturers throughout the supply chain, across industries, and of varied company sizes have aggressively pursued Quality 4.0 technology and use cases. Today, 64% of manufacturers are pursuing Digital Transformation, and of these, 23% are pursuing quality improvement use cases. A low hanging fruit, Quality 4.0 is one of the top use cases of Digital Transformation initiatives.
Who Cares About Quality and Quality 4.0?
Most of your company, and that's a good thing.
Quality 4.0 initiatives are only occasionally being led by quality leaders – most are being driven by operations, IT, product development, and marketing. In fact, for every person with a quality title, 19 others are working on Quality 4.0 initiatives. As per our recent Analytics that Matter research, the top use case for analytics in the manufacturing enterprise was to improve manufacturing quality. Similarly, the Successful New Product Introduction research pointed out that more than half of all product development and operations teams saw themselves as either fully accountable for final product quality or responsible for quality tasks.
But it's no secret that we struggle to work cross-functionally, or that a clear majority of technology projects fail to meet key deliverable. This is particularly true for big, broad, and long-lasting projects, like Quality 4.0. While the market recognizes the importance of Quality 4.0, how can companies successfully use digital technology to transform quality?
What is Success?
Well, what are you trying to accomplish, and who agrees with your definition of success? This may seem trivial, but LNS has worked with many manufacturers on Quality 4.0 and Digital Transformation initiatives and often found that the definition of success is misaligned and incomplete. Teams need a good definition of success that aligns back to strategic objectives, crosses organizational boundaries, and identifies success in pilots as well as at scale.
Start right to end right, right?
This is particularly crucial in Digital Transformation and Quality 4.0. Digital Transformation initiatives are becoming renowned for starting as pilots and never scaling the technology, adoption, and success. In fact, there's a term for this: pilot purgatory. Pilot purgatory is a real concern.
There are several broad categories of Digital Transformation and Quality 4.0 risks including teams, selection process, and adoption. If you've already started your project, go back to make sure your initiative has the right definition of success, and that the team has mitigated these risks.
Quality 4.0 success: A New Paradigm in TCoQ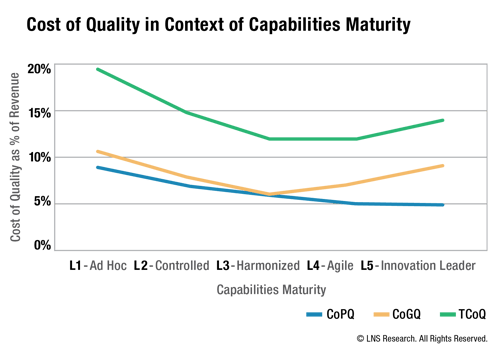 So, what types of results can a Quality 4.0 project yield? Quality is cross-functional and provides cross-functional value. Quality 4.0 can show improvements in broad operational and financial metrics such as overall equipment effectiveness (OEE), successful new product introductions (NPI), and/or operating margin. It also helps to identify value regarding delivering against strategic and cross-functional objectives.
However, from a strictly quality lens, total cost of quality (TCoQ) has been said to be the ultimate measure (for another perspective, A New Definition of Quality). Let's look at some hard numbers from LNS' maturity research conducted with data from 1198 manufacturers, the cost of poor quality (CoPQ) and cost of good quality (CoGQ) are plotted against quality maturity. Level 1 maturity is a fifth of the market that has the fewest quality capabilities, whereas Level 5 has the most quality capabilities.
Both CoPQ and CoGQ decrease from L1 to L3, dramatically reducing the TCoQ. However, while CoPQ decreases from L3 to L5, traditionally CoGQ increases enough to more than offset these savings. (Obviously, this does not include the impact on the customer, which could result in increased customer satisfaction or improved revenue.)
What's interesting is that early adopters of Quality 4.0 do not see this increase, and in fact are able to leverage new insights to continue to reduce CoGQ and CoPQ. LNS is familiar with manufacturers in consumer durable goods, semiconductors, and industrial equipment that have all reduced TCoQ in a high maturity/capability environment. One common key is applying analytics to quality data, and using these new quality insights across the company, such as by refocusing supplier testing.
Recommendations
The market has prioritized Quality 4.0. It now needs to successfully select and deploy technologies to realize the potential value of Quality 4.0. It is critical to leverage a sound solution selection process, aligned with a clear, validated definition of success, to deliver the differentiated performance possible through Quality 4.0.
Categories: Enterprise Quality Management System (EQMS), Cost of Quality (CoQ), Industrial Transformation / Digital Transformation, Quality 4.0