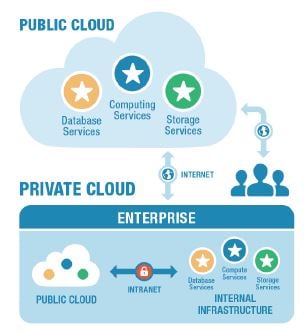 Cloud is one of the technological advances that has been cited as pivotal to Digital Transformation. Yet, for many manufacturers, the Industrial Internet of Things (IIoT) and Big Data/Predictive Analytics have dominated the conversation on just how manufacturing will transform.
Click here to speak to Dan Miklovic
Certainly, Cloud has been part of this discussion, but typically it has been related to, and supportive of the Big Data discussion. Cloud is also widely accepted as a front-office platform alternative with many manufacturers and asset-intensive industries having moved their sales force/CRM and sometimes, their ERP/EAM deployments into the Cloud. In 2016 the majority of the major ERP providers reported that for new installations Cloud deployment ran anywhere from 1/3 to ½ of the number of installations. Likewise, Cloud-only providers showed continued growth in 2016.
LNS's own client base seems to be following the market, particularly as companies look to spin up new operations in Asia, replace aging systems that lack scalability or are looking to open a new facility with limited IT investment. In all of those cases, a Cloud-based option is preferable with just under ½ of our survey respondents (49%) indicating that some SaaS model is their preferred deployment model. This begs the question: What other implications will Cloud have for Manufacturing in 2017? We look at five areas we see Cloud definitely changing the manufacturing landscape in 2017.
1 – Cloud & Additive Combine to Uberize Aspects of Manufacturing
In this case, Cloud computing serves more as an enabling technology than an intrinsic part of the specific solution. In 2017 LNS expects to see the proliferation of several service offerings that will connect the owners of additive manufacturing tools, most notably 3D printers to companies looking to source low volume production of components. The eCommerce hubs and the engineering tools to digitize design data will reside in the Cloud. The delivery capacity will range from small shops similar to machine shops to large service bureau operations hosted by major logistics providers like UPS.
The ability to print prototyping and spare parts on-demand in local markets for same-day delivery will change the way companies source low-volume parts. While we won't see a lot of individuals Uberizing manufacturing, it will mark the beginning of a highly disruptive period in manufacturing.
2 – MES in the Cloud Enters the Mainstream
In 2016 the MES market saw 42Q enter with a pure Cloud-only MES and in December SAP announce their delivery of MES in the Hana Cloud. This is in addition to the Cloud –only ERP and EAM providers like Plex and Fiix (previously Maintenance Assistant) that have had elements of MES (or operations management) in their products all along. Automation supplier class MES providers like GE, Siemens, and Schneider Electric rolled out their Cloud platform approaches and announced either the ability to run their respective MES solutions in the Cloud as well as on-premise today, or the intent to have a Cloud MES solution in the near future.
The idea that the MES has to be hosted on a server at the manufacturing facility is becoming passé in any area with reasonable connectivity. While we do not expect the levels of Cloud penetration in MES that we are seeing in ERP, 2017 will be the year where at least 20% of companies procuring an MES will seriously evaluate a Cloud offering.
3 – Configuration Tools Leverage Cloud Connectivity
As IIoT capable devices proliferate in 2017 tools to manage them will become increasingly important. Just as we saw programming tools evolve from proprietary hardware to software on commodity personal computers and then tablets over the last 40 years, we are now going to see the need for proprietary single-vendor programming and configuration disappear thanks to Cloud technology. While on-device configuration applications are possible, the scarcity of skilled programmers and the development of more complex systems is forcing remote access. LNS expects to see more applications, like Schneider Electric's recently released Prometheus package, and expect to see these all take advantage of the Cloud to allow for rapid evolution as new IIoT enabled devices will constantly enter the market.
With major automation players like Siemens promising to have an identical 3rd party, internal APIs, and tools like GE Digital Foundry making configuration more open and transparent Cloud connectivity will make IIoT configurability a hot area in 2017.
4 – Cloud-Based Supply Chain Visibility Redefines Relationships
One of the obstacles to better visibility across the supply chain has been the lack of real-time data on work-in-progress (WIP), whether it is raw material, goods in the plant in various states of manufacture, or goods in transit to final packaging and delivery accessible across the entire supply chain. IIoT makes more of that information available, but making it useful still requires that data convert to information and then shared. That is where Cloud technology will play the key role.
As in the configuration case, the ability to access and interpret information from an ever-expanding number of IIoT enabled sensors is the ideal environment for a Cloud solution. In 2016 we saw a number of pilot projects, particularly in the mill products sector, where IIoT data that was shared in Cloud-based environments improved supply chain visibility and hence customer service. Based on LNS survey responses to the IIoT survey, we see this as a 2017 focus-area and expect to see an order of magnitude more case studies where IIoT data and Cloud combined change the way the supply chain interacts.
Cloud technology, particularly when it is based on a global platform, makes visibility in real-time practical, affordable, and accessible. 2017 will be the year where supply chains that leverage the Cloud outperform those that rely on point-to-point serialized communications. "Instant" visibility to all the trading partners in a supply chain will unleash new business models and competitive partnerships that were previously not possible.
5 – Big Data & Analytics in the Cloud Become Highly Accessible
For the last two years, LNS has blogged extensively on the relationship between APM, IIoT, and Big Data & Predictive Analytics as it is the "low hanging fruit" when establishing the value of the IIoT. What we are seeing is that in the Asset Performance Management (APM) space almost all of the new entrants pushing Predictive Analytics solutions are opting for Cloud delivery of their capabilities. From niche players like Predikto to IT platform players like Splunk, Cloud-only delivery is setting the tone for APM Predictive Analytics. Even those companies that have their roots in on-premise delivery of APM analytics all now offer a Cloud-also solution.
The real value in Cloud enabled APM Analytics is the ability to exponentially expand the universe of connected devices allowing machine learning algorithms to produce better models of behavior. Cloud will also drive down costs since machine learning approaches will provide for many customers, good enough solutions, at least where risks are not high. LNS is producing an eBook on using Cloud-based analytics and other special APM tools to do "guerrilla APM" for publication in the first quarter of 2017. On top of the APM use cases, we expect to see other areas where Predictive Analytics, enabled by Cloud-based Big Data will impact quality, EHS, and operational efficiency.
Categories: Cloud, Enterprise Resource Planning (ERP), Industrial Internet of Things (IIoT), Industrial Transformation / Digital Transformation