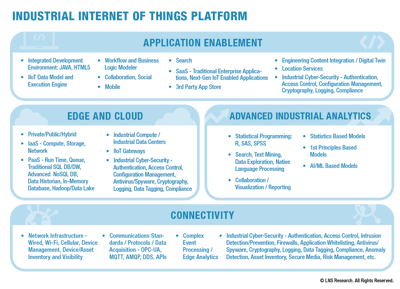 LNS Research is frequently briefed by many companies that want to enter the industrial space with a new Internet of Things (IoT) product. Often this is just an old product with some minor changes, new marketing message, and new IoT roadmap. Unfortunately, with the state of hype in the market place today, IoT whitewashing is happening much more than it should. But not with BSQUARE and the new DataV product.
Click here to speak with Matthew
How to Avoid IoT Whitewashing – Bsquare and DataV IoT Device Enablement Briefing
Bsquare is a 22 year old company that has been in the IoT world longer than most (already 8 years – i.e. before the IoT was the IoT) and counts many blue chip companies as customers. Over these past 8 years Bsquare has mainly acted as a professional services firm, developing IoT solutions for companies and products like the smart Coke vending machines, smart Costa Coffee vending machines, and the MyFord Touch infotainment systems along with many others.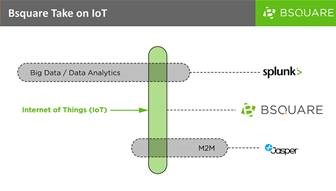 So what is new? Bsquare is not just rebranding or making minor investments, they are betting the company on an almost complete pivot from being a services company to a product company and DataV is the new product. In Bsquare terminology, DataV sits between and extends across the traditional M2M players like Jasper (now part of Cisco), and the Big Data Analytics companies like Splunk. Bsquare believes this will fill out the Industrial Internet of Things (IIoT) stack with device enablement that includes edge analytics and workflow at the edge.
Although LNS doesn't use the exact same language as Bsquare, we talk about an IIoT platform instead of an IoT stack and also believe there is a slightly broader ecosystem footprint encompassed by our Platform view than their stack view. But we are really mincing words here.
Overall there is a tremendous need for edge analytics and workflow for Smart Connected Assets. Furthermore, there are a whole host of industries that need this capability to deliver on leading use cases like reliability, quality, production efficiency, and business model.
LNS is encouraged by the continual flow of new IIoT platform companies with real technology expertise and potential entering the market, of which Bsquare is one. The prospect of starting to work on our new IIoT Platform Solution Selection Guide is getting more and more exciting each week.
The IIoT Continues to Create New Service Opportunities: Schneider Electric Briefings
We have been saying for quite a while now that the IIoT, Cloud, Big Data and Predictive Analytics and Mobility are going to create new business models and opportunities. While still in the early stages the convergence of these technologies is starting to actually impact what is being delivered to the marketplace. Traditional end user companies, as well as vendors in the manufacturing space should all be paying careful attention to how this trend materializes.
This week a number of us at LNS Research had multiple briefings with Schneider Electric about its plans on how to grow in the IIoT enabled world. While much of the specific product details were shared under non-disclosure, we can say that it is refreshing to see Schneider looking at the IIoT as enabling new service-based approaches to serving their customers. Schneider Electric is clearly looking at how they can mash up existing applications, Cloud based solutions, and IIoT enabled devices to provide a new level of value to their customers. As a major supplier of energy management and automation technologies, there are numerous opportunities for Schneider Electric to help their customers achieve higher levels of reliability from their assets. Their clients should keep a careful eye on Schneider Electric and look for new product and services announcements later this year that will help customers achieve greater asset reliability from their drives, protective devices, motor control and data center power systems. LNS also attended, the Life is on Summit co-located at the Paris marathon this past week, so expect more to info and insight to come.
DELMIA® Reports Continued and Strong Growth with "Manufacturing in the Age of Experience"
This past week LNS Research was briefed by Patrick Michel and Eric Green from DELMIA in our Cambridge offices for our bi-annual business update. Apriso, and now DELMIA, as a whole has been one of the leading Manufacturing Operations Management (MOM) providers for over a decade. It's one of the first to promote the concept of a MOM Center of Excellence to speed global deployments, and offer a compelling platform approach to MOM that offered relatively easy configuration and could actually achieve 80% out-of-the-box functionality in real-world implementations.
For these reasons and many more, LNS was not surprised to see continued momentum reported from DELMIA, both extending existing relationships with customers to additional plants and products, as well as many new logos in key industries like Automotive/Transportation, Aerospace and Defense, and Medical Devices.
One surprising announcement is the new DELMIA CEO effective February 1st, Guillaume Vendroux. A new CEO is not what's surprising, but instead that the new CEO does not have software industry background and has spent his entire career working for industrial companies. Vendroux was most recently (and intimately) involved with the DELMIA Apriso implementation at Alstom Transport as VP of Operations. Bringing on an outsider as CEO is risky, but hopefully represents big up-side and little downside for the company. Vendroux will have a strong team of veterans behind him and the potential to bring a new, more broad-based, and customer focused view to the organization.
It is also worth noting that the outgoing CEO, Philippe Charles, will be pursuing new supply chain opportunities within the broader Dassault Systems. This move, along with the 2014 acquisition of Quintiq, could signal real supply chain aspirations for the company; a bold move which would be unique among engineering centric software companies. For decades supply chain software has clearly been in the purview of either ERP or specialty niche vendors.
The final major announcement came with DELMIA's new messaging of "Manufacturing in the Age of Experience," which is more aligned to the overall corporate message. On the face LNS believes this new message will resonate with many manufacturing executives and DELMIA is supporting the new message with an impressive series of live events, including a global event slated for November 2016 in Shanghai. Dassault Systèmes and DELMIA should be successful with the new message if they remain consistent and continue to build out the details; the company has the technology expertise and breadth in simulation and execution to credibly deliver such a vision.
The one area where LNS is hoping to hear more from DELMIA in the coming months and years is on partnerships and innovation regarding Cloud deployment and IIoT enablement of MOM systems. DELMIA has already announced support of Microsoft Azure, which represents an extension of the long time partnership with Microsoft as a whole, and is a good first step. However, there is a lot more work to be done in this area. DELMIA has the potential to continue as a technology leader in the space - but if they don't act fast they could quickly become a technology innovation follower for the first time in a long time.
Access the Metrics That Really Matter webinar On-Demand where Andrew Hughes presents the results from the fourth iteration of the Metrics that Matter research study conducted between LNS Research and MESA International, and places particular focus on how the deployment of IIoT, Cloud, and Analytics are transforming manufacturing today.

Tags: Big Data, Smart Connected Assets, Industrial Internet of Things (IIoT), #MondayMusings, Asset Performance Management (APM)