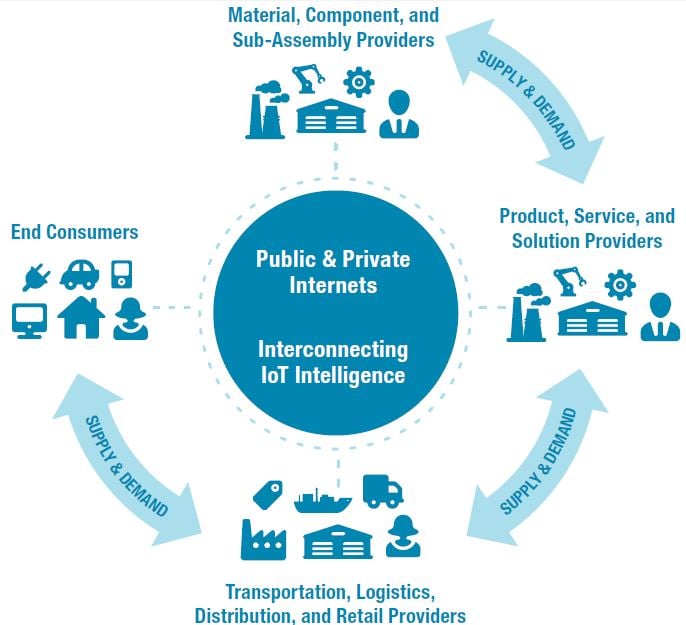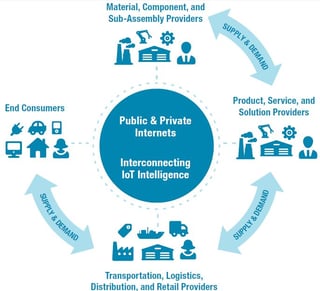 In this weekly Roundup, LNS Research explores recent announcements and events, such as Honeywell Process Solutions introduces its new Digital Transformation business unit; Hewlett-Packard Enterprise launches its HPE Universe IoT platform; Hitachi launches an IoT business unit focused on sustainability; and SAP collaborates with UPS to improve its supply chain management and on-demand additive manufacturing.
Hitachi Turns Focus to Sustainability with the IoT
Hitachi has launched a new global group responsible for driving the company's global unified Internet of Things (IoT) business and strategy, with a major focus on sustainability solutions. The Hitachi Insight Group was formed to deliver on the corporate vision for Social Innovation by developing digital solutions that drive better business outcomes and support the development of smarter, safer, healthier, more efficient societies. The group is responsible for research and development (R&D) and go-to-market (GTM) strategies of Hitachi's IoT solutions and services that provide actionable insights to customers in four key market segments: Smart City, Smart Energy, Smart Healthcare and Smart Industrial.
Commenting on this is LNS Research Analyst, Peter Bussey, "The Hitachi Insight Group exemplifies real-world use cases for IoT solutions to address thorny sustainability issues and deliver real value in areas such as renewable and sustainable energy, intelligent transportation, precision agriculture, water treatment systems, and sustainable mining. The Social Innovation vision for safer, healthier, more productive societies is a bold one. Hitachi's sustainability successes to date plus the combined resources of the new IoT business unit position it to make rapid progress in achieving it." To read more on this click here.
Honeywell Establishes New Digital Transformation Business Unit
Honeywell's industrial control division, Honeywell Process Solutions, has added a new business unit. The new unit, which is being referred to as the Digital Transformation unit, will focus on software, data analytics, the Industrial Internet of Things (IIoT), and Smart Connected Assets.
The Digital Transformation unit will focus on the IIoT and what the expected outlook is for it and connected devices in manufacturing. To carry the Digital Transformation unit forward, Honeywell already has IIoT systems developed that allow machines to communicate and share data with one another through a wireless connection. Honeywell expects the Digital Transformation unit to improve automation on the plant floor and provide data when operational performance needs to be restored and maintained. To read more about how Honeywell is consolidating its data analytics into a single business unit click here.
HPE Launches IoT Platform, Universe
Hewlett-Packard Enterprise announced the launch of its new IoT platform, HPE Universal. The new platform is aimed to collect, convert, analyze, and monetize Big Data collected from Smart Connected Assets. The platform is formatted to run on public Cloud services, as well.
In HPE's description of HPE Universal, it states another capability being it is able to collect information and exchange it to other IoT applications, devices, and Smart Connected Assets. HPE hopes to discontinue legacy solutions and eliminate silos with the platform. The architecture of the product is designed to help unify the industry with a common set of M2M standards. To read more on the capabilities of the IoT platform click here.
SAP Adds Improvements to UPS' Supply Chain Management
Earlier this week SAP recently announced, at its 28th annual SAPPHIRE NOW 2016 conference, a collaboration with UPS to improve UPS' supply chain management to an "industrial-strength solution," and to "simplify on-demand manufacturing though end-to-end printing innovation." Through this solution, UPS will be able to gain supply chain management advantages from its improved additive manufacturing, or 3D printing, and logistics network.
SAP and UPS stated the solution will be vital to enabling critical components of its on-demand manufacturing, such as digitizing the production approval and accelerating a standardized process for companies to access on-demand manufacturing from remote locations. Member of the Executive Board, Products & Innovations, SAP SE, Bernd Leukert said, "By bringing together the on-demand manufacturing and logistics expertise of UPS and the extended supply chain leadership of SAP, we can enable direct digital manufacturing and an on-demand industrial manufacturing network that connects form manufacturing floor to the customer door." Click on to read more about the collaboration announcement from SAP or UPS.