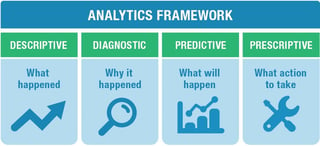 In this weekly Roundup, LNS Research explores recent announcements and events, such as a biotech company uses Predictive Analytics for farming; Boston, MA MBTA adopts wearables for improved performance; Nestlé expands Quality Assurance center with $31M; Cisco finds a faster way to Digital Transformation; and Exxon Mobil and the Georgia Institute of Technology have found an alternative to avoid carbon dioxide pollution.
Public Transit Agency Joins the Augmented Reality Bandwagon
Commuter rail workers at Boston's MBTA are about to get a jolt of technology to help them keep trains running on time. Next month, maintenance staff will test augmented reality glasses combined with a software platform that will provide a "see what I see" solution.
This might just be one piece of the future of transportation maintenance and is an excellent testing ground for solutions that enable a collaborative approach to MRO beyond telephone and two-way radio. In this instance, an onsite technician will use the glasses as a video streaming tool to get advice and help from remote maintenance experts on all kinds of things like climate, mechanical door, lighting, sound, or other train systems. Vuzix and ODG manufacture the wearable, while the Xpert Eye platform from French-American company AMA is the underlying software platform. According to LNS Principal Analyst Dan Miklovic, "Augmented reality will greatly improve the effectiveness of technicians. For most companies, maintenance activities are considered an operational issue, but it becomes clear that new approaches will mean it's also an IT concern." Read it all here.
Sweet News in Product Safety: Nestlé Spends $31M to Expand QA Center
A new 82,000-square-foot facility in Dublin, Ohio is now Nestlé's largest quality assurance center globally, and where Nestlé is waging war on the emerging threat of foreign bodies in confections. While the most focus has been on pathogens, foreign materials are a substantial source of complaints and recalls. According to Canadian statistics, 42% of safety investigations and 11% of recalls were due to customer complaints of foreign materials. An HACCP plan is a critical requirement for every food and beverage company, and manufacturers should look to suppliers and partners to understand where they can add value in the way of services or technologies. Your colleagues at other companies are just as important: Quality and operations executives that benchmark and network with peers and counterparts in the industry may be better informed about the challenges and results to expect with Advanced Quality Process. Read about Nestlé's New QA Center or building an HACCP plan.
Am I reading this correctly? – Cut People for Faster Transition to Software
There's a powerful Internet of Things (IoT) story hiding in some workforce reduction news. On the surface, it sounds like "same story, different day" – Cisco cuts 7% of its workforce. But the real news is that the company expects to use savings from cuts to fuel sales growth across Cloud computing and connected devices. Now that's big. The Digital Transformation and technologies like IoT, Big Data, and predictive analytics are enabling new business models today, not "someday." The industrial sector and manufacturers, in particular, are keen to "service-ize" products – selling production capacity rather than goods. Cisco's actions reflect this trend and the move to meet customer demand for cost-effective software-based solutions. If you didn't catch the news, read more about it now.
When Green is More Than a Buzzword: Exxon + Georgia Tech= Less Greenhouse Gas Emissions
According to a story by IndustryWeek, "Scientists at Exxon Mobil and the Georgia Institute of Technology have discovered an alternative to the most energy-hogging part of manufacturing plastics, potentially keeping 45 million tons of carbon dioxide out of the Earth's atmosphere each year."
It doesn't matter if it's hot or cold processing, plastics manufacturing is an energy-intensive business. Researchers have reportedly discovered a way to filter out para-xylenes with less energy; they describe it as being similar to the approach used to desalinate seawater. With the cost of fuel slowly coming down, many industrial companies aren't quite as worried about energy costs as they were even a scant year ago. But, for makers of plastic products and other high-fuel production plants, Energy Management will probably always be a high priority. The cost savings and eventual boost to the bottom line will be a nice bonus for early adopters, once the filtration process goes commercial.

Tags: Industrial Transformation / Digital Transformation, Predictive Maintenance (PM), Big Data, Industrial Internet of Things (IIoT), Cloud, Enterprise Quality Management System (EQMS)