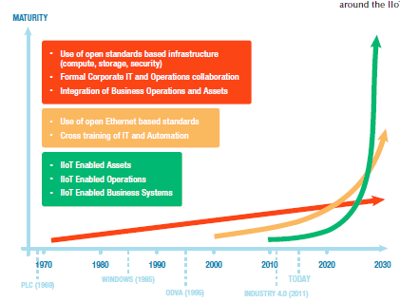 It is very clear that the hype of the Internet of Things (IoT) and Industrial Internet of Things (IIoT) is here to stay. The IIoT is a necessary starting block for the Digital Transformation that is going to take place across the world of manufacturing in the coming years. Many manufacturing technologies will help to realize this transformation from smarter robots, through 3D printing, to a massive use of data to improve manufacturing processes. The worlds of information technology (IT) at the business level and operational technology (OT) in the manufacturing plant will converge and become intertwined.Click here to speak to Andrew
There are two major issues for those from the manufacturing side:
Today's view of IIoT platforms is distinctly focused on IT technology

Few manufacturing leaders are driving the IT and OT convergence
Change is required if manufacturing personnel and skills do not want to become lost in the digitalized world; manufacturing leaders need to get involved now.
It comes as little surprise that IT has led Digital Transformation until now. As it is commonly defined, IIoT platforms have four key capabilities:
Cloud computing

Connectivity

Application development capabilities
In a typical company, these are all areas in which IT departments work. Indeed, we have seen some of these technologies move from the IT department down to the shop floor, driven, inevitably, by IT departments. In talking with IT leaders in many manufacturing companies, we see that many IT departments have hired (or should I say acquired) people from manufacturing technology departments in order better to serve shop floor requirements. While this is laudable, it also risks leaving behind real manufacturing people during the revolution that is happening in the manufacturing world.
Our message could not be clearer: Senior manufacturing and plant staff need to be at the forefront of Digital Transformation. Top executives define the strategic objectives that will drive Digital Transformation activities. These goals need to translate into actions that will drive massive change in plants and across the enterprise. It is easy to see that some of the starting points, such as better data gathering for improved analytics, seem, initially, to be typical IT projects. However, their real value will be delivered on the shop floor when analytics outputs become performance improvements in the plant. This is just a simple example of where having the right leadership for IIoT projects will deliver much faster benefits – the focus on manufacturing performance rather than on IT performance is a key to success; manufacturing leaders must bring their experience to bear on as many Digital Transformation projects as possible.
There is, to some extent, also a more concerning trend in the IIoT world; the myth of IT-OT convergence. As we have reiterated many times, IT-OT convergence is an inevitable outcome of the move to more connected and higher-tech factories. Many of the technologies used for years by IT departments are now appropriate and cost effective in plant systems. Reliability of Ethernet networks is very high, Standard PC hardware is ideally suited to many plant computing tasks, and the vast majority of user interfaces use standard mobile or fixed solutions from our everyday world. This has led to something that is not IT-OT convergence, but rather IT usurping OT people in a lot of projects. We cannot blame IT departments for going after OT projects because their impact at the business level becomes threatened as companies move to Cloud and SaaS systems that require much less IT input than locally hosted mega-systems.
There is no doubt that IT can bring a great deal of experience and cost cutting capabilities to the shop floor, but if the promise of the IIoT is to be met, we need to ensure that manufacturing input does not become lost because of the changes driven by IT. Manufacturing VPs and directors need to take control of their Operational Architecture, not from a purely technical viewpoint, but one that ensures the real benefits are built into project definitions. They also need to make sure that their departments retain the skills necessary to evaluate projects for an operational benefit, rather than solely IT excellence. OT-IT convergence may be the right way of putting it – Digitalization of operational processes through the help of IT technologies.
Categories: Cloud, Big Data, Information Technology, Industrial Internet of Things (IIoT), Industrial Transformation / Digital Transformation