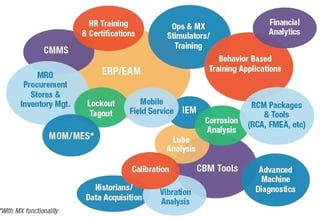 Headquartered in Roanoke, VA and founded in 1992, Meridium is a longtime provider of core Asset Performance Management (APM) technology. Privately held, currently GE holds a 25% ownership interest. The company is considered a pioneer in the APM space and has established partnerships with several organizations, as well. The company currently offers three APM solutions: Enterprise APM, Enterprise APM Now, and Asset Answers.
Enterprise APM represents the core APM product offering, consisting of APM Foundation, APM Strategy, APM Failure Elimination, APM Mechanical Integrity, and APM Safety. It's an on-premise licensed version of the solution, whereas Enterprise APM Now is the Software as a Service (SaaS) offering of the solution set. The company also offers extensive consulting and implementation services to help clients derive the most benefits from APM modules in a rapid fashion.
With respect to the core aspects of APM, Meridium's APM Solutions have some of the richest functionality profiles available, though it is not an Enterprise Asset Management (EAM) or CMMS solution, nor does it provide specialized MRO inventory.
The company has a strong presence in the chemical, mining, oil & gas, and power & utilities industries, with 1,200+ sites in more than 75 countries and eight languages.
APM in Process Industries and the Opportunity for Enterprise Benchmarking in the Cloud
We've discussed the important opportunities in process industries, where unplanned downtime and adverse events can prove disastrous, that APM can provide. Even in a volatile industry such as oil & gas currently, though less activity may be occurring around investments, the opportunity that APM can provide in the midst of shrinking profit margins and the potential brand and reputation damage to business stemming from public disasters or other adverse events is arguably greater than in more flush circumstances.
Asset Answers is the company's newest solution, which was developed as a distinct offering that leverages the wealth of asset data that Meridium has aggregated working with its customers to create a cloud-based benchmarking databases. This allows organizations to assess their APM performance against peers in their industry, global community or process specific peer comparisons. LNS Principal Analyst Dan Miklovic has written about the tremendous opportunity that aggregate data presents to cloud users if data is anonymized, secured, and handled properly.
While there are risks involved in data sharing, we believe that the good outweighs those risks overall. The sharing of equipment performance, downtime, and process parameters is an opportunity for enterprises to accomplish several goals, including better predict the service life remaining in specific pieces of equipment.
Meridium segments its benchmarking metrics into three categories:
Corrective cost analysis

Repair even analysis

Asset availability analysis
The company has a reputation as a pioneer in the APM space and was very active in defining the functionality and analytics associated with asset health assessment and operational risk management from an equipment failure perspective and it has continued to show thought leadership with the Asset Answers solution. Meridium is an important option for companies looking to build out their APM architecture and integrate with existing or planned EAM solutions.
LNS Research Asset Performance Management Solution Selection Guide
For much more information about Meridium's APM solutions, strategy, and strength as well as full details on 19 other top APM providers by key criteria such as company sizes served, geographies covered, functionalities and delivery models, and industry strengths be sure to click below to download the full version of the LNS APM Solution Selection Guide.

Categories: Asset Performance Management (APM)