Sparta Systems is an interesting firm. Well known for its on-premise TrackWise product, it had stumbled in recent years as it faced many new cloud-based competitors. Over the past year, it brought on a new leadership team and put its considerable weight behind the development of its Force.com-based TrackWise Digital cloud product. As we look at the Summer 2019 release of TrackWise Digital, has the effort paid off?
A Quick History Lesson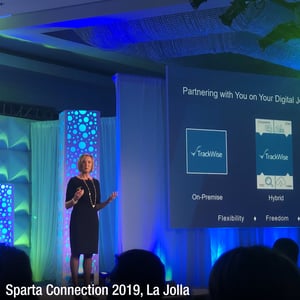 Let's think back to Sparta Systems at the end of 2015. The firm had been the revenue leader in the enterprise quality management software (EQMS) market for well over a decade, and essentially owned the large pharmaceuticals market as well as many of its suppliers. This was due to the products' ability (on-premise TrackWise EQMS and Amazon Web Services (AWS)-based Stratas supplier collaboration technology) to deliver global EQMS to life sciences firms. Manufacturers combined these on-premise EQMS implementations with one of several different vendors for electronic document management software (EDMS).
In 2016, new cloud-based EQMS providers started entering the market, some of which had expanded existing cloud solutions to include EQMS, providing the market with cloud-based EQMS functionality connected with other cloud-based solutions. This activity fundamentally shifted the market dynamics.
Sparta Systems had started to react to cloud as well. It launched the AWS-based Stratas supplier collaboration technology in 2015, and in early 2016, Sparta invested in the Force.com-based 123Compliance, an early-stage cloud EQMS provider. Over the next two years, Sparta experimented with different approaches to cloud technology, eventually settling into its current strategy: rebranding 123Compliance as TrackWise Digital, working to replicate on-premise TrackWise functionality into TrackWise Digital, expanding TrackWise Digital beyond the scope of its on-premise sibling, and providing tools to reduce the effort and expense to migrate from on-prem TrackWise to TrackWise Digital.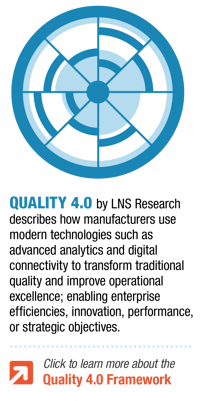 However, cloud isn't the only story that has evolved over the last three years. Quality 4.0 has also accelerated dramatically. According to the most recent data from LNS Research, 38% of all manufacturers across all industries have either already implemented or are piloting Quality 4.0. This fact is also true in life sciences, although the market has taken more time to move from pilot to full implementation. Interestingly, EQMS vendors have been slow to react to Quality 4.0, although it's clearly the future of quality and is a strong quality technology story.
TrackWise Digital: An LNS Research Perspective
So, how is Sparta doing with its TrackWise Digital journey? While it stumbled with its cloud strategy and messaging for the first several years, the company has moved aggressively to overcome these initial challenges. It now has a compelling cloud solution. It's also one of the first EQMS vendors to respond to Quality 4.0 and is launching repeatable and scalable Quality 4.0 solutions. Sparta's recent actions over the last 12-18 months have been very much in line with our view of the market, and are essential strides to establish a technology leadership position. Notable developments include:
MIGRATION PATH

| Sparta Systems has developed a migration tool to migrate data and processes from TrackWise to TrackWise Digital. The company delivered this tool across its Spring and Summer 2019 releases. It's no secret that data and process migrations are costly in both staffing and financial investment, and migration is necessary to go from TrackWise to TrackWise Digital as these are two different technology stacks. LNS identified this as a major hurdle for Sparta Systems customers, and a leading root cause for Sparta customers to shift to competitive solutions. The migration tool is a welcome and important development for on-premise TrackWise customers, which is also obviously critical to Sparta Systems' success.



ENHANCED PRE-CONFIGURATIONS

| TrackWise Digital has enhanced pre-configurations in its Spring 2019 release, and is targeting for TrackWise Digital implementations to become 80% "out of the box." That's significantly better than traditional TrackWise on-premise deployments, which were typically heavily configured. LNS analysts have beat the drum on pre-configurations for years, as strong and well-thought-out pre-configurations slash customers' up-front time to value and reduce effort in upgrades. Now in the cloud era, pre-configurations provide the basis for benchmarking as well. Strong pre-configurations are critical, and while this is more of a parity move given the broader market's progress in this area, it is quite important.



CLARIFIED GO-FORWARD

| TrackWise Digital is now Sparta Systems' sole cloud EQMS, and Stratas is a collaboration and integration tool. This distinction eliminates earlier confusion about which platform is Sparta Systems' go forward cloud platform. While not new for 2019, this is resonating with the market, as evidenced by a large number of net new companies that are starting with TrackWise Digital.



ENTERPRISE DOCUMENT MANAGEMENT SYSTEM (EDMS)

| The Spring release of TrackWise Digital included a significantly enhanced 4.0 version of its EDMS, which addresses a decades-long gap in the TrackWise portfolio versus competitors, and better aligns Sparta Systems for several crucial downstream quality processes (training management) and Quality 4.0 use cases. The system permits extensibility by providing a library of prebuilt document workflows that a company can associate to existing or new document types. Extensibility is critical in EDMS, as there is quite a bit of variation in document types.
Quality 4.0
We've saved the best part of the story for last. LNS Research has been tracking the market's acceleration of the pursuit of Quality 4.0. One challenge that companies face is a lack of technology skills (e.g., quality tech, data scientists) to create a DIY Quality 4.0 solution. We've been encouraging the market to develop commercial off the shelf (COTS) solutions to solve this challenge, and Sparta Systems is the early mover in building repeatable Quality 4.0 solutions for life sciences firms. Its early work targets artificial intelligence (AI) applied to data controlled within TrackWise Digital to embed AI into workflows, known as robotic process automation (RPA). Three areas its targeting:
Complaints triage AI
Quality events AI
Intake automation AI
These all focus on auto-classification of risk, using AI to predict risk by analyzing free text entry. AI predicts the risk, but humans make the ultimate decision. The value of this approach is streamlining workflow and routing and allow precious quality resources to prioritize high-risk areas. This falls into LNS Research's Quality 4.0 RPA class of Quality 4.0 use cases, and over time, Sparta Systems plans to add to these use cases with more functionality, as well as invest in other Quality 4.0 use cases.
We applaud this approach. Large pharma manufacturers have few data scientist resources, and companies in other sectors are even more limited. A repeatable COTS approach is highly valuable. Building and developing a library of repeatable AI use cases is an important differentiator in the market and eliminates the risk of science projects.
Sparta is also announcing two partnerships to extend its investments. One is with Proceedix, which connects TrackWise Digital's DMS paperlessly to the shop floor. The other is with UL's ComplianceWire to connect its DMS with training management.
Takeaways for the Market
Three years ago, Sparta Systems was at risk for disruption. However, its new management team has pivoted aggressively to the cloud, to Quality 4.0, and to shore up long-standing historical gaps. It's difficult to "right the ship" at a company ripe for disruption, but Sparta has managed so much more than that. Its aggressive moves toward AI and Quality 4.0 position it to succeed and outpace the market in the foreseeable future.
Categories: Enterprise Quality Management System (EQMS), Cloud, Solution Vendor / Software Vendor, Quality 4.0