Every year, LNS Research analysts put forth predictions around the Industrial Transformation (IX) topics where we focus our research. In January 2022, I made only one prediction – but it was in four parts. This year I see 3 interrelated trends. To help you to decide whether my 2023 is worth considering, I have wrapped up this blog post with an assessment of how I did on my 2022 predictions (hint: by my count, I was 4 of 4 but you can decide).
To Commit or Quit: The Pressure to Transform
Industrial Transformation (IX) is not a value chain function but is about making step change improvements to the value chain. However, many (most) manufacturers are under intense pressure. Three "Big Challenges" appear to be driving operations management:
The Manufacturing Labor Crisis

Supply Chain Disruptions

Economic Uncertainty
Multiple Transformation team leaders have told LNS Research that they are facing intense pressure to put "all hands on deck" to ensure products are shipped on time and customer deadlines are met. Transformation teams at many manufacturers report that they are under pressure to slow down/stall or disband their IX program considering these significant challenges. Plant personnel is pushing back on IX Teams as having insufficient resources to support transformation today.
LNS Research fully expects some companies will, in fact, slow down their programs. Our recent survey data about economic uncertainty showed that about 6% of companies intend to "modestly pair back" or "dramatically decrease" their IX program due to these challenges. Our forecast is that these 3 big challenges are daunting enough that companies are likely to delay starting an initiative if it has not begun and companies in the very early stages of transformation will shut down their efforts at a higher rate than forecasted by the survey.
We believe that is the wrong decision as do the 84% of companies surveyed that are increasing or maintaining their investment despite (or because of) these challenges. Why? Global survey data powerfully demonstrates that IX is delivering for manufacturers and that ROI is being realized widely across IX Leaders. In fact, 80%+ of IX Leaders were able to reduce COGS and/or improve operating margins and/or grow revenues by at least 3% as a result of their IX program.

At our recent, The IX Event our fearless leader, Matthew Littlefield, noted that:
Leaders have started the fly-wheel spinning

The benefits are accumulating

The knowledge base is accumulating

The speed and quality of decision-making and action are accelerating
Failing to act in IX is a profound corporate failure.
Significant Realignment Required
But, and this is an important but, LNS Research believes and expects that many programs should and will reorient their IX program to better address these three big challenges. LNS Research has been advocating an Industrial Transformation Framework for defining, executing, and managing your transformation program. Core to that framework is the alignment of the IX programs with corporate strategy and priorities. Instead of technology for technologies sake, IX Programs should be tightly focused on improving business outcomes as anticipated in the corporation's strategic plan.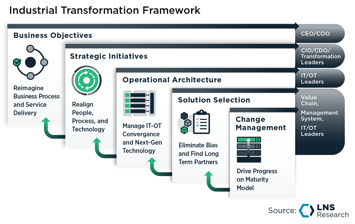 All good, but we have seen several manufacturers that treat strategy as a fixed input to their program. Transformation programs then take off and start running, failing to understand the changing strategic landscape around them. We saw it with COVID. IX Programs that were running effectively prior to the pandemic often failed to adjust their priorities and strategies to accommodate the new working models associated with the pandemic. Yet, at our 2021 IX Event, one leading transformation executive said "COVID changed everything." He was recognizing that the pandemic was putting new pressures on manufacturing forcing change in IX Program priorities, strategies, and solutions.
In 2023, we fully expect to see a number of IX Programs change to better align with new corporate operational priorities. How? Let's take each of the three Big Challenges:
Manufacturing Labor Crisis

Intelligent and aligned IX Program leaders understand the pressure that the heads of manufacturing are under to deliver products without the staffing required. Therefore, they have increased the priority around labor productivity, accelerated labor training, and enhanced expertise support (via augmented or remote resourcing). This has led to increasing interest in Connected Frontline Workforce applications, AR/VR and/or digital twin-based training, and remote support strategies.

Supply Chain Disruptions

Several companies have announced that they are going to miss their revenue forecasts for 2022 because of their inability to deliver because of supply chain disruptions. Smart IX Program leaders should be and are noting the challenge and readjusting priorities to better support manufacturing's very real challenges around the supply chain. This has led to an increased focus on Advanced Planning and Scheduling (APS) systems and even a focus on newer methods of optimization such as Make-to-Parts planning models. It has again increased the focus on Connected Workforce applications as insuring compliance to the newly developed schedules and flexibility in product mix puts pressure on operations.

Economic Uncertainty

These first two big challenges are exacerbated by the uncertainty of the global market. Are we all headed to recession? Is China headed there faster? Is the recession going to abate the labor crisis or will it continue to be a white-collar trend in western countries? Two things are clear: change is the new constant in manufacturing and "black swan" events seem to be coming at us faster and faster.

Again, LNS Research believes IX Programs should and will change in the face of economic uncertainty. Not by throttling their programs down but by refocusing them on agility and resiliency. "Smart Manufacturing" and "Predictive Plant" oriented programs are likely to redefine themselves as "Agile Manufacturing" and "Responsive Fulfillment" programs.

This will likely lead to a relative change in the focus of the IX Programs. Again, less focus on AI/ML and big data and more focus on quicker changeovers and flexible supply chains. In other words, the priority technologies for the Manufacturing Labor Crisis and Supply Chain Disruptions will also see impetus from an increasing focus on Agility.
For every increase in focus described above, there is likely an offsetting decrease in technologies and priorities. S4/Hana and other ERP upgrades are likely to be pushed out. And, despite all the hubbub, we would not be surprised to see the operationalization of Sustainability (factory-level changes), Connected Workforce, and digital voice of the customer projects also pushed out.
Therefore, we expect a lot of change in the priorities, technologies, and strategies of IX Programs in 2023. We also expect to hear a lot more about "pilot purgatory" as vendors and systems integrators complain about successful pilots that are not rolled out – because priorities changed away from the problems their solutions were aimed to solve.
The Need for Speed and Emerging New Solution Sets
LNS Research also expects IX Programs to focus even more on the speed of deployment. MES may be important and have a strong payback, but it is slow to roll out and places big burdens on plant personnel. In 2023, MES will likely be deprioritized.
LNS Research believes companies may create solutions for Connected Workforce and updated APS models that can be swiftly deployed across plants to accelerate improvements quickly. Whether it is that specific bundle or some other, LNS Research predicts that the speed of global deployment and the burden placed on plant-level personnel to even support deployment will become critical requirements in 2023. Vendors and partners should be planning for a wild ride this year.
How Did I Do on My Predictions for 2022
To help you decide whether to believe my predictions for 2023, it makes sense to see how I did on my predictions for 2022. In early January 2022, I made one prediction in four parts. Let's look to see if I got it right or wrong...
✔️ The phrase "IIoT" will become increasingly meaningless.
In a world in which machine and equipment connectivity was largely available, IIoT was originally about new technologies to connect to "devices" and "things" that had not historically been connected to the internet. In manufacturing, it meant new sensors and data sources, using new communication and integration protocols to extend and enhance the understanding of larger assets and the plant overall.
Then IIoT became trendy. Clearly "IIoT" is now being used to cover both machine and "device" connectivity and virtually every vendor that has some form of machine integration capability is relabeling it IIoT. IIoT has become meaningless. LNS Research regularly sees companies relabeling their weak machine integration technologies as IIoT. An OPC or SECS/GEMS interface alone is not IIoT but you sure would not know it from how vendors, and now even some manufacturers, are using the phrase.
I predicted that "This is only going to get worse as laggards will follow the leaders in mislabeling capabilities."
If anything, I underestimated the speed by which the label IIoT would become meaningless. My recommendation to manufacturers is to dig deeper than the labels and really force potential vendors to detail their capabilities against specific requirements for connectivity, contextualization, and analytics. Clearly differentiate in your requirements between the types of equipment, the devices, products, and sensors you want to connect to, and how you anticipate using the acquired data.
As a hint, never ask a vendor "can you connect to X" because then a legitimate answer could be "yes" when it is all services and/or a custom product enhancement. Always ask the vendor, "does your product currently connect X", "where has it been done", and "by what standard or protocol are you connecting?"
✔️ Very specifically, LNS Research is forecasting the continued specialization of vendors into a focus on Industrial Data Hubs or Advanced Industrial Analytics.
What once was one IIoT market is fragmenting into multiple markets and vendors are going to have to choose where they want to compete. I just published a blog on the market's evolution. IX Platforms must, at a high level, offer two distinct sets of capabilities and we forecast that vendors will increasingly specialize in one or the other technology:
Get the data into context. That means they must have a wide range of connectivity options, the ability to transport the data to where it needs to be, put it into a meaningful context, and manage that data volume over time. At LNS Research we are increasingly calling these capabilities an Industrial Data Hub and will be writing about them extensively in 2023.

Make something meaningful of that data including but not limited to applying artificial intelligence/machine learning algorithms against that data. This is what LNS Research is calling Advanced Industrial Analytics and we will be delivering a Solution Selection Matrix in early 2023.
This bifurcation of the market is clearly emerging. Multiple vendors are now explicitly offering an Industrial Data Hub or Industrial Data Ops platform including; Cognite, Element, HighByte, Inmation (now AspenTech Inmation), Sight Machine, Timeseer.AI, and ThinkIQ.
Multiple vendors are now explicitly offering Industrial Analytics and are often positioning support for a full range of Industrial Analytics offerings. Vendors in this category would include; Augury, Itus Digital, Quartic.ai, SEEQ, SparkCognition, TrendMiner, and Vanti AI.
✔️ The Hyperscalers will continue their march towards leadership of the IX Platform market.
We noted last year that we were "overwhelmed by the pace of development at AWS" and the plethora of announcements at Amazon re:Invent. We expected to see a repeat in 2022. A quick look at AWS.Amazon.com/Manufacturing and a click on the re:Invent tab will highlight the scale of innovation for manufacturing coming out of AWS.
Microsoft has announced a preview of the Microsoft Cloud for Manufacturing as a key indicator of its intent to drive innovation in manufacturing. We also expect to see significant continued innovation by all the Hyperscalers.
Several IX Platform suppliers have descoped their vision: they no longer are actively promoting their own marketplaces but are promoting themselves on the Hyperscalers marketplaces. LNS Research views this as a key admission by those vendors that the Hyperscalers are going to win the general platform battle.
Just as significantly, we have seen multiple large manufacturers declare the Hyperscalers to be the "platform" they are building their operational transformation on.
✔️ The market will begin shaking out with some of the early start-ups acquired and/or founders displaced organizationally as the company's restart.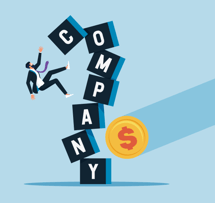 There are hundreds of start-ups aiming to win the IIoT market even as it is changing. Venture Capitalists know that the vast majority will fail to achieve their objectives and gain market leadership, but they hope they invested in the one or two that will win the market.
These start-ups are well-funded and have massive valuations. The VC community clearly believes that one of these companies will finally be manufacturing's first "unicorn" which achieves multi-billion valuations.
The downside to these large valuations across so many companies is that most will not achieve their (inflated?) business objectives.
LNS Research predicted that in 2022 we would start seeing shakeouts within this pool of pure plays in digital technologies. We projected that inflated valuations were not likely to be backed up by revenue growth realized. We thought this prediction would be manifested in the form of founders being ousted or repositioned within their companies and company sales at asset-like prices. This prediction was made BEFORE the general tech stock meltdown of 2022.
We did see several startups and pure plays get acquired in 2022. We also saw a wide number of these companies lay off significant numbers of employees and reshuffle their management teams (we will be discrete about their names here).
All in all, we would say it appears we were right about the reset!
---
All entries in this Industrial Transformation blog represent the opinions of the authors based on their industry experience and their view of the information collected using the methods described in our Research Integrity. All product and company names are trademarks™ or registered® trademarks of their respective holders. Use of them does not imply any affiliation with or endorsement by them.