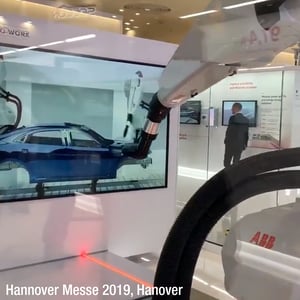 The LNS Research globetrotting team found itself in Hannover last week, excited to see what's new in the world of Industrial Transformation (IX). The event was as full (or perhaps even busier) than the last two years, it was noticeable that the space for software companies was substantially larger, and the big guys had toned down the one-upmanship: gone were the enormous jet engines, tractors, and other boys' toys. In their place were small booths demonstrating the latest solutions and lots of open space with tables and chairs for better interaction with show-goers and potential customers.
Yes, Hannover is a big event ― it takes a small army of analysts for any research firm to cover it properly. While my focus was primarily factory of the future and specifically manufacturing operations management (MOM), Matt Littlefield's lens was somewhat different. He was sleuthing out the mega-trends that will impact IX over the next 12-24 months.
Of course, we do expect to see a new theme at Hannover every year, but this year was a little different―the overarching theme was simply "Solutions," something that could mean almost anything, but that definitely signalled an important development in the digital manufacturing world. The big software and hardware vendors were highlighting end-to-end systems that deliver a slice of IX functionality. We didn't see "Industrie 4.0" and "IoT" plastered across every booth, but as we did the requisite round of executive meetings―some 50 or more in all―vendors introduced us to a variety of solutions that fit much of the promise of global IX initiatives.
Partnerships to Accomplish Industrial Transformation
Leading up to Hannover, we saw a lot of merger and partnering activity to deliver a broader set of functions than vendors could previously achieve. For example, ABB and Dassault Systèmes (3DS) formed a partnership to deliver end-to-end industrial solutions in discrete manufacturing that neither could do alone. As well as this partnership, we saw a number of 3DS' offerings including the integration of IQMS into DelmiaWorks and Quintiq Supply China in DELMIA: lots to see and more to come.
We expect to see many more alliances that will result in so much more than entry-level Industrial Transformation. These relationships should also solve one of the dilemmas manufacturers face on the IX journey: the wide range of IIoT (and other) platforms on offer. Partnerships that serve up integrated solutions will have to figure out how to go to market with potentially competitive platforms.
The choice of platforms has changed dramatically since Hanover 2018 in that the war for hyper-scale Cloud platforms has, pretty much, run its course with Amazon Web Services (AWS) and Microsoft Azure dominating the market. This shift is probably no bad thing for manufacturers. The two players can afford to invest in the globally distributed Cloud required for IT in general and focus on specific industries to provide differentiated solutions and functionality as required. We already see solution providers using Azure functionality where possible and only developing Industrial Internet of Things (IIoT) platform capabilities where the cloud provider lags in capabilities. The balance between hyper-cloud provider and local IIoT platform will vary greatly, with some choosing to use just basic cloud compute and data storage from Azure and AWS, while others will depend more heavily on them.
Microsoft and AWS each had a large stand, which included their partners showcasing many solutions. There was considerable overlap in technologies with competitors sitting almost next to each other. It's a great opportunity to be in a big stand, as there is a genuine draw even for large automation and software providers.
MOM Alive and Well
One of the enduring experiences at Hanover is the considerable presence of manufacturing execution system (MES) vendors in the software halls. Even this area grew a bit this year, and we saw a few German MES providers that were new to us. Others that we know well, such as MPDV and Critical Manufacturing, had quite large stands and they claimed to have many high-quality leads from visitors. The German MES market continues to differentiate between MES and MOM with MOM being a superior integrated version of the "lesser" MES. There was more talk of integrating MES with IIoT and moving to a more modular approach, but the German MES market still exists on its own and with little concern for IX and other exotic improvements to manufacturing plants.
On the AWS stand, we saw two interesting MOM suppliers driving MOM into the Cloud. 42Q has been offering cloud-only MOM since its inception almost exactly three years ago, while Tulip is a pioneer of truly modular MOM in the cloud. Both vendors are worth watching as MOM evolves into IIoT.
The machine building market is starting to come around to the potential of IIoT and IX; there are enormous benefits for the builders and their customers. These include new business models (bottling as a service comes to mind), bringing together data from many machines operated by different manufacturers, and feedback into design from real-world operations. All of this can lead to Digital Twins and truly sophisticated IX. Hopefully, this will drive the MOM market to support machine builders working in the Cloud and modularize their offering so that companies can run parts as multi-tenant MOM modules that deliver real value.
When talking MOM and Hanover, it's inevitable that the conversation moves to Siemens which is "at home" in Hanover. Their usual impressive booth was vast and full of solutions aimed at the many different industries Siemens covers. It's good to see specific solutions for each, but the complexity of offerings from which to choose is bewildering. With MOM solutions from pharmaceuticals, medical devices, electronics, automotive, general discrete manufacturing to process industries, the functionality and opportunities are enormous. Today, Siemens offers its MOM Solutions Simatic IT UA that's probably going to drift towards ever greater modularity and many market specific solutions, and Camstar for the medical device sector as one example.
We believe that the opportunities to make all the solutions richer will come from a modular approach, allowing functionality from different solutions being fully available to all via the IIoT platform, Mindsphere.
We are very excited about where the MOM market will go in the coming years. For many years, we've said that MOM is a good starting point for Industrial Transformation. Today, it's clear that MOM is going strong and can become an integral part of IX if vendors grab the opportunity.
More to Like from Hanover
Hexagon, a Swedish metrology company, has moved into the software hall and gone way beyond metrology with their end-to-end solutions for additive manufacturing with CAD, simulation, production, and metrology/quality. With the market going towards solution-focused sales, Hexagon Manufacturing Intelligence (MI) has some unique opportunities. Indeed, the whole additive manufacturing market seems to be maturing and rapidly moving towards production focused solutions, especially in low volume markets such as aerospace and defense and tool making for discrete manufacturing.
As usual, Robots were everywhere with vendors vying for the strongest robot prize. Again, the opportunity to integrate robots into automation solutions and include them in the Digital Twin demonstrates the increasing maturity of the robotic markets.
We're always working hard to keep you a few steps ahead of the market, and this year we'll be examining some new technologies in our factory of the future research. Looking toward Hannover in 2020, we're planning even more time to look around, and we hope to see you there!
Categories: Manufacturing Operations Management (MOM), Cloud, Solution Vendor / Software Vendor, Industrial Transformation / Digital Transformation