LNS Research attended the Rockwell Automation Fair in Philadelphia, PA on November 14 and 15, 2018. Rockwell Automation® (NYSE: ROK) is an industrial automation and information company with $6.7 Billion in sales and 23,000 employees. This was the 27th annual Rockwell Automation Fair hosted to demonstrate their products and those of their ecosystem partners. Rockwell Automation noted there were over 8,000 customers at the event making it the largest Rockwell Automation Fair ever held outside of Chicago. They also hosted "Automation Perspectives" for the media and analysts on November 13.
PTC® Partnership yields new "Innovation Suite"
In July 2018 Rockwell Automation made a $1 Billion investment in PTC. PTC, with $1.16 Billion in revenues in FY 2017, is a leading supplier of mechanical computer-aided design (CAD), and product lifecycle management (PLM) solutions. PTC has also established themselves as a leading Industrial Internet of Things (IIoT) supplier through a series of acquisitions starting in 2013 (ThingWorx, Axeda, Kepware, ColdLight, and Vuforia).
That $1 billion investment made PTC more than an average ecosystem partner, and it was evident at the event. The spotlight was quite literally turned on the relationship. Jim Heppelmann, CEO of PTC, was introduced onto the Automation Perspectives stage less than 30 minutes after the event kicked off and was given ample time to illustrate PTC' potential for Rockwell Automation customers. The PTC offering was featured in all the Rockwell Automation booths and several technical sessions.
More telling, Rockwell Automation and PTC used the event to launch FactoryTalk InnovationSuite powered by PTC, the "first" joint offering coming out of the partnership. The solution includes FactoryTalk Analytics and manufacturing operations management (MOM) from Rockwell Automation, along with ThingWorx, Vuforia and Kepware components from PTC. The two companies believe the software suite enables companies to optimize their operations and enhance productivity by providing decision makers with improved data and insights.
LNS Research noted the disciplined approach to this launch. PTC' products could offer value to Rockwell Automation customers in several ways. The companies elected to create this "first" offering tied tightly to operations and the "wrap and extend" IIoT message of ThingWorx. This contrasts with any number of grandiose value propositions that could be put together around the combined product offering. For example, the smart connected product capabilities of ThingWorx was not stressed in this initial joint offering. Nor was there significant discussion around the integration of PTC PLM with Rockwell Automation' automation products.
LNS believes this controlled approach could be critical in building a solid foundation for the partnership. The specific InnovationSuite message and application should be readily digestible by the Rockwell Automation software sales and services organization. If the crowd at the 2018 Rockwell Automation Fair is any indication, there is genuine interest in this solution among the Rockwell Automation customer base. Meaningful sales traction is critical for these types of relationships. The quote of the event was from Jim Heppelmann: "in an industry full of meaningless partnerships, this one means a lot."
New Branding and Product Suites
The Rockwell Automation Fair and associated events were also the launching point for the new brand and product naming convention. Rockwell Automation unveiled its new brand promise: "Expanding Human Possibility" by combining the imaginations of people with the intelligence of machines. This continues the trend of automation companies highlighting their "softer sides" (LNS words) more in brand marketing. There is a real authenticity here as it aligns to the priorities of Rockwell Automation' CEO and Chairman Blake Moret. One example of Mr. Moret's focus can be seen in the Academy of Advanced Manufacturing – highlighted in several ways at the Rockwell Automation Fair event – that Rockwell Automation and the Manpower Group has developed to help fill the projected skills gap in manufacturing and to provide a career launch platform for military veterans.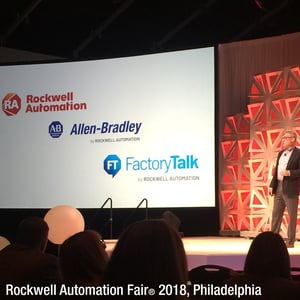 Rockwell Automation also unveiled new packaging of its software products. Gone is the Rockwell software moniker, replaced with four suites:
FactoryTalk DesignSuite - including the Studio 5000 programmable logic controller (PLC) programming products
FactoryTalk OperationSuite - built around MES and other operational products
FactoryTalk MaintenanceSuite - focusing on equipment maintenance
FactoryTalk InnovationSuite powered by PTC
While Rockwell Automation' position in the design, operations, and innovation are well established, LNS was surprised to see Rockwell Automation positioning so forcefully in the equipment maintenance arena. The asset performance management (APM) market is evolving rapidly with LNS Research finding that APM 4.0 is critical to achieving end-user goals in the space. Rockwell Automation has historically led with services in the asset management space. As highlighted in our recent APM Software Solution Selection Guide, the continued build-out of the Rockwell Automation asset product offering is required to meet evolving, transformative requirements. If this is going to be a top-tier suite from Rockwell Automation, we believe more investment and product extensions are necessary.
Getting relatively less attention this year was the "Connected Enterprise." Connected Enterprise is a key link between Rockwell Automation' operations capabilities and Industrial Transformation messaging. We suspect it was simply a result of the focus this year on the "softer side" of Rockwell Automation messaging, but we shall see.
Final Thoughts
LNS analysts have been to the 10 of the last 12 Rockwell Automation Fairs and several Rockwell Automation TechED® events over the years. After the Rockwell Automation TechED 2017 we said: "Moving forward, LNS hopes that these next-generation capabilities showcased at Rockwell Automation TechED 2017 represent just the start of a more focused approach to delivering packaged IIoT Platform capabilities and Digital Transformation outcomes to its customers." With the announcement of the PTC Partnership in July and the launch of the InnovationSuite at the Rockwell Automation Fair event, Rockwell Automation has demonstrated a clear focus on IIoT Platforms and Industrial Transformation. We look forward to seeing how things evolve at future Rockwell Automation Fairs and how the PTC and Rockwell Automation partnership progresses.
Categories: Solution Vendor / Software Vendor, Industrial Internet of Things (IIoT), Industrial Transformation / Digital Transformation