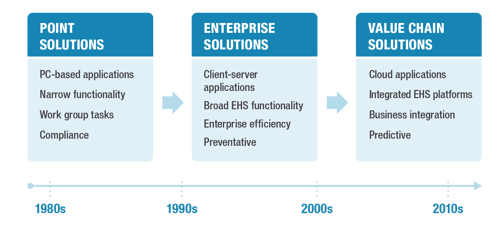 In this weekly Roundup, LNS Research explores recent announcements and events, such as Mitsubishi Hitachi Power Systems tackling EHS performance; Schneider Electric Buys APM Platform MaxEAM; AspenTech Acquires APM Company Mtell; and SAP's Latest S/4HANA Release.
Turbine Factories Turn Attention to EHS Performance
Mitsubishi Hitachi Power Systems Americas (MHPS) is looking to tackle Environment, Health, and Safety (EHS) performance and impact business objectives, like reducing non-compliance risk and ensuring safe and sustainable operations. As part of their effort, they've purchased a Cloud system from ProcessMAP Corporation as the technology foundation to standardize EHS processes and provide enterprise visibility of EHS metrics. With six locations across North America including production plants in Orlando, Savannah, and Houston, the maker of turbines, generators, and environmental products markets itself as a company that dedicates itself to maximizing availability, reliability, and profitability for power companies. It sounds like MHPS focuses on operational excellence inside its four walls as one way to extend customer value, and is a good role model for those customers. Read the news release at PR Newswire.
Schneider Electric Takes on APM Platform MaxEAM
Schneider Electric just announced the acquisition of MaxEAM to complement their Asset Performance Management (APM) business and close gaps in work scheduling, task execution, and data conversion. The company reports that by adding MaxEAM to its Avantis.PRO offering will boost capabilities and streamline processes for mobile workers. Read the full story by Schneider Electric.
AspenTech Buys Mtell for APM
Mtelligence Corporation (Mtell), an Asset Performance Maintenance (APM) analytics company is now part of Aspen Technology. According to AspenTech's CEO, the purchase adds predictive and prescriptive maintenance capabilities to their solutions for process plants and assets. Mtell already had expertise in machine learning and maintenance workflows, which may also add new dimensions to the AspenONE suite. Read the news story on Yahoo! Finance.
Enterprise Resource Planning (ERP)
Enterprise Resource Planning (ERP) company SAP says that its latest release provides prediction and pattern recognition capabilities and machine learning. The product is meant to improve productivity while simplifying the IT landscape with the goal of digitalizing extended supply chains. This release features functional, usability and integration enhancements aimed at available to promise (ATP), inventory management, material requirement planning (MRP), warehouse management, and Environment, Health, and Safety (EHS). Most notably, the company says that this new edition features a simplified data model for harmonized master data. Follow the developing story at SAP.

Tags: Enterprise Resource Planning (ERP), Environment, Health and Safety (EHS)