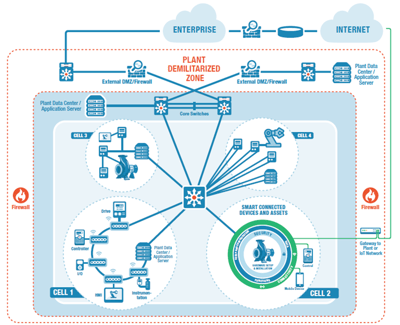 The #MondayMusings blog series provides executive level insights and analysis for the Industrial Internet of Things (IIoT) and Digital Transformation from the previous week's briefings, events, and publications @LNSResearch.
LNS Research is dedicated to helping industrial companies in manufacturing and asset-intensive industries achieve Operational Excellence. We consistently write about how to drive Operational Excellence in the key pillars of manufacturing, Quality, Environmental, Health, and Safety (EHS), Energy/Sustainability, Operations and Asset Performance, and how Digital Transformation is allowing companies to accomplish their Operational Excellence goals. Part of that is robust coverage of the supplier community that serves the industrial sector, from automation and control suppliers all the way through enterprise solutions like Enterprise Resource Planning (ERP) and Enterprise Asset Management (EAM).
This ecosystem of suppliers is providing a rich portfolio of solutions that enterprises can leverage to build out an Operational Architecture. That is the underpinnings that enable people, process, and technology to harmoniously come together to drive performance. Sometimes enterprises need to look in unexpected places for solutions that can help them in ways they may not have thought about previously.
LNS Research analysts interact with the entire supplier community, attending events, user group meetings, and vendor briefings. The vast majority of those encounters are with the ecosystem of providers that are well known in the industrial space. Occasionally, and with more frequency, we also interact with vendors that are typically more associated with either the consumer space or the hard-core IT sector. We are spending time with these vendors because the disruption that is occurring as the result of Digital Transformation, driven by the Industrial Internet of Things (IIoT), is something companies must be prepared to understand.
To that end, we take a look at two vendors that you might not traditionally think of when it comes to IIoT and Big Data on the factory floor: Verizon and Splunk.
Getting IIoT Data from A to Z – Verizon is More than Your Mobile Phone Company
For most manufacturing and asset-intensive industries when you talk about IIoT, Cloud and Big Data you think about the process or performance insight you can gain from the data collected; thanks to a new generation of smart instruments. You may even think about the platforms that are on offer from automation providers or enterprise application software companies, like GE and SAP. What you don't often think about is the job of moving your data from the point of origin to the Cloud and the resultant insight back to anyone and everyone that needs it.
Jason Kasper and I recently were briefed by Verizon on their Enterprise Solutions supporting manufacturing and asset-intensive industries and the move to IIoT, Cloud, Big Data and leveraging Mobility. For many, when we hear Verizon the first thing we think of is the U.S.'s largest mobile phone carrier. For the IT telecommunications professionals, it may also extend to thinking about corporate voice and data communications in support of a company or BYOD phones and tablets. But few of us think about just what that means and how we are going to securely move information from here to there.
Verizon has a reach across the entire globe through their infrastructure, access to global networks and partnerships with other regional carriers. They offer more than just a transport layer, providing security, digital media services, IoT capabilities, application services and traditional corporate communications. It is an integrated utility based solution that provides cross platform analytics to aid in everything from understanding customers to asset reliability. Most of all Verizon provides a level of cyber security that helps ensure privacy, as well as secure data movement at both the IT and OT levels.
LNS Takeaways
Verizon's availability in the vast majority of U.S. territory and its global partnership network give it a footprint that will serve multinational, as well as local manufacturers and asset-intensive companies as they build out their IIoT footprint.

The Verizon Enterprise Solutions ecosystem is comprehensive and encompasses SaaS, PaaS, and IaaS providers, as well as network infrastructure and service providers, VARs and IT service providers. One area where Verizon needs to expand is in forming relationships with automation companies.

Verizon can offload the work associated with providing secure, private data transport and has extensive support for Mobility solutions that can form a critical part of any IIoT deployment that extends beyond the four walls of a single facility.




Moving at the Speed of Splunk with Asset Lifecycle Management
LNS analysts have been interacting with the Splunk team for quite some time, getting regular briefings and attending events like Splunk.Live! Boston and looking forward to their upcoming .Conf 2016. Recently, Jason Kasper and other analysts had an update briefing on how their use is expanding for the IIoT and Industrial Data.
Splunk was created to understand machine generated data and has grown exponentially on its approach to all things IT, making many IT executives, and users lives' easier with its flexibility and usability to gain insights to IT infrastructure and security. Its solution has become quite widespread and tested within the IT realm, whether the data is from GPS, RFID, Web Servers, Telephony, Sensors; you name it, they bring it in their tool set to manage and gain insight using analytics.
It's only natural to think how then this offering can be utilized in the Operational Technology (OT) side of the house, traditionally taxed with siloed data sources residing with experts or on the assets themselves. This is a very traditional problem faced by asset-intensive industries, and while many of the vendors that have resided in this space are creating solutions to address this same problem, Splunk is doing it by applying its core platform to provide organizations a glimpse into the future that Machine Learning holds. Machine data that is generated by IT systems has a much in common with machine data generated by sensors and control systems.
For example, Splunk can ingest customer data from Alarms and Events, Work Orders, and Sensor data applying Machine Learning algorithms and identifying patterns to predict previously undetectable issues in a plant. We covered this area in a Big Data blog post recently discussing where organizations are at with their analytics efforts, and can they answer questions they didn't know to ask. Splunk appears to be on the path to figuring this out.
As Splunk expands from IT to OT, they see opportunities in Monitoring/Diagnostics, Security, Safety & Compliance, Predictive Maintenance, and Asset Lifecycle Management. Splunk has focused their platform on large scale data ingestion, search, exploration and advanced analytics. The technology-use cases continue to expand and are translating well in the world of OT. It is clear they are moving quickly into the OT space and are doing so based on their IT and Security successes at these industrial companies. As the IIoT space continues to evolve rapidly, Splunk appears to have the ability to keep pace by translating their learnings into a demonstrable software.
LNS Takeaways:
Splunk is moving quickly and learning the capabilities and needs required by manufacturing and asset-intensive industries. The key will be how their insights translate into value and how the Splunk solutions fit with other legacy APM applications and workflows, for example, Enterprise Asset Management.

Partnerships are key, teaming up with industrial automation vendors could provide additional clout required to gain momentum in the industrial space, we look forward to hearing the progress on partnerships soon.

Most APM vendors are in exploratory phase when it comes to Machine Learning. Splunk has seen results in applying techniques. More customer successes will be key to show the true potential of this approach and how it scales at an enterprise level.

Categories: Industrial Internet of Things (IIoT), Big Data, Artificial Intelligence / Machine Learning (AI/ML), Industrial Transformation / Digital Transformation, Smart Connected Assets, Asset Performance Management (APM)