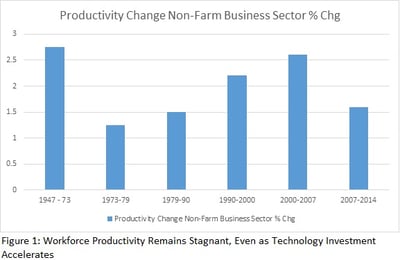 Last week I had an opportunity to attend the Infor Innovation Summit in NYC. This is the annual two-day analyst event hosted by Infor's executive team, led by CEO Charles Phillips. This year's event focused on the opportunity to increase workforce productivity, which has been stagnant since 2007 even though technology investment and use has increased significantly. For Infor, this opportunity is the next era of Enterprise Innovation
Click here to speak with Jason


Multi-Enterprise ERP
One opportunity to enhance workforce productivity for Infor is with their recent acquisition of GT Nexus. Kurt Cavano, Founder of GT Nexus, discussed opportunities to support this initiative by managing processes within the supply chain, outside the four walls of an organization, where 80% of information resides. Often manufacturers are dealing with hundreds, if not thousands, of suppliers to manufacture goods and ship them to the desired location. The management of this is quite cumbersome, and GT Nexus coupled with Infor Cloud Suite creates the ability to create a Multi-Enterprise ERP creating an opportunity to increase productivity and save millions in the process.vSeveral examples were provided, but one in particular caught my attention and it was the work done in collaboration with CAT, a leading Construction and Mining Equipment Manufacturer. CAT has a network of 12,000 dealers in 147 countries and work with a range of ocean, air, rail, and truck carriers. Using the GT Nexus solution they enhanced the visibility of parts, components and finished vehicles throughout the supply chain. This affords them a full view of what equipment needs what parts for upcoming service so they can coordinate scheduling and the necessary resources to perform the work. This initiative enabled CAT to remove 3 days of inventory from the supply chain, resulting in $150M in savings.
Digital Disruption
The second area of opportunity for Infor is with the cause and effect of Digital Disruption, more commonly known as Digital Transformation. This is an area LNS Research devotes much time to, our latest blog on the subject may help those that want to learn more about the topic.
Leading the charge in this area for Infor is the Hook & Loop team. This design centric team flips design on its head by helping its customer navigate digital disruption through a strategy, design, assemble, and run process. The premise is, for most industries, the systems and processes that have been put in place are quite antiquated, cumbersome, and do not work the way most of us want them to with the advent of "apps" and common interfaces. This team works with its clients to reinvent the process provided as a rich user experience for the customer, as well as their own workforce. It connected the two in ways that are not possible with existing systems today.
Although initially devoted to retail, they did show some viable solutions for the public sector with permitting processes. I was able to sneak a peek at similar innovation in maintenance offerings for both the public and industrial sectors.
LNS Research's Take
It was great to see how the acquisitions of late are taking shape into a vision with a purpose – improving workforce productivity which has been stagnant since 2007. We are impressed to see a view on Digital Transformation as well, with a clear process on how Infor can support its customers looking to take this on. As our research indicates, initially, most of these projects will typically be pilots initially, and as they become proven, will be rolled out at an enterprise level. We are looking forward to the continued story at Inforum 2016.
Access the Metrics That Really Matter webinar where Andrew Hughes presents the results from the fourth iteration of the Metrics that Matter research study conducted between LNS Research and MESA International, and places particular focus on how the deployment of IIoT, Cloud, and Analytics are transforming manufacturing today.
---
All entries in this Industrial Transformation blog represent the opinions of the authors based on their industry experience and their view of the information collected using the methods described in our Research Integrity. All product and company names are trademarks™ or registered® trademarks of their respective holders. Use of them does not imply any affiliation with or endorsement by them.