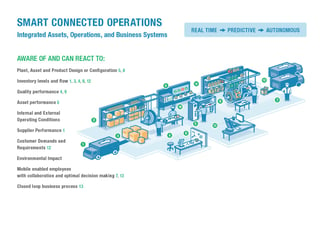 Leading vendors in the space continue to focus on building out platforms and modernizing applications with Cloud and Big Data capabilities. As these investments continue to be made, business and IT executives need to ensure that vendor technology investments are focused on real-world business challenges and how Digital Technology can enable business model transformation.
Click here to speak with Matthew
Combining Digital and Lean for Transformation, GE Brilliant Factory Briefing
At last year's Mind and Machine event in San Francisco, GE made some major announcements regarding the Brilliant Factory. The announcements included partnerships with other players like PTC and Cisco, along with the bold goal for getting 100 internal GE plants connected in 2016. This past week we had an interesting discussion with the Brilliant Factory team, including Jenn Bennett, Vic Kingery, and Steven Garbrecht where they updated LNS on the progress of the initiative.
It was clear from the discussion that GE is still 100% committed to the success of the Brilliant Factory and reported in the first quarter 10 internal plants are now connected with the Brilliant Manufacturing Suite, an impressive number. This commitment was also demonstrated with the recent announcement from GE regarding the general release of the Predix platform. However, the most interesting point in the discussion came from what the GE team learned while connecting the first 10 plants, and it was all around bringing together Digital and Lean.
GE, for many years, has been famous for the rigorous adoption and use of process improvement tools like Six Sigma and it looks like the concept of Digital and Lean is falling right into this same pattern. Namely, GE now envisions Digital and Lean as critical parts of the same journey, describing them as concentric circles with the customer in the middle, then Six Sigma, then FastWorks (GE's Lean startup innovation model), and finally a Digital Thread encapsulating them all. Jenn described this relationship as, "Having customers at the center and focusing manufacturing excellence on driving customer delight."
LNS believes this is an insightful and even critical component to any Digital Transformation strategy and exemplifies why in our framework we so closely tie the concepts of Digital Transformation and Operational Excellence. Any executive thinking about a Digital Transformation strategy would be well advised to take a page out of the GE book (or LNS framework) to begin building the Digital on top of existing Operational Excellence frameworks.
Catch 22 - Eliminating Shadow Quality Costs, Plex Briefing
I have been covering Plex since before the Cloud was called the Cloud (2006). Over the past several years Plex has become a leader in delivering (and marketing) the "Manufacturing Cloud" with its broad and deep multi-tenant SaaS cloud offering of ERP that includes MOM and EQMS among many other capabilities.
Stu Johnson, Director of Product Marketing Plex, reported to me and Dan Jacob that despite all the changes seen in the broader manufacturing market over the past five years (including all of the new technology and marketing investments at Plex) quality is still the number one area of inquiry among Plex prospects. This was not a surprise to us at LNS Research.
As we dove into a discussion around the Cost of Quality and building a business case for change, we discussed the idea of "shadow quality costs" as analogous to the tradition concept of "shadow IT costs." Shadow quality costs are a real problem; the true cost of quality management and true poor quality cost is hidden or not quantifiable due to extensive use of informal systems.
Shadow quality costs represent a classic Catch 22. The costs and value of quality can't be quantified without a good system and culture, but without quantifying the costs and value of quality, companies are hesitant to invest in good systems and culture. LNS is continuing to research this topic in order to address this most significant industry problem, and will publish updated research later this year.
Becoming an IoT Platform Company, PTC Briefing
Last month at the PTC ThingEvent in Boston Jim Heppelmann and other PTC executives highlighted plans for transforming the world of things. This will be through increased focus on extending the ThingWorx IoT Platform with the ThingBuilder, ThingServer, and ThingBrowser. Analogous to the Web browser, the ThingBrowser will (in theory) enable access to Thing content just as Web browsers allow access to Web content. And just as the Web browser transformed our world (ecommerce, social media, etc.) the ThingBrowser (potentially) will transform our world as well (Augmented Reality, Digital Twin, etc.).
Last week we had the chance to continue the discussion with Michael Campbell, EVP Digital Twin PTC. It was clear from this discussion that the ThingEvent was not hype and that PTC is continuing down the path of transformation to become an IoT platform company first and foremost. The level of commitment being demonstrated by PTC is unique among traditional competitors. Just last week we discussed how ENOVIA is taking a partner strategy for IoT platforms. It will be very interesting to see which, if any, other traditional PLM competitors try and match PTC going down this same path (Siemens Sinalytics?) or if more IT/OT competitors (SAP, IBM, GE, etc.) can compete with PTC's differentiated ability to work with engineering and 3D content.
Functionality Still King for Many Industries, Infor EAM Briefing
While new technology is what many vendors are focused on, functionality still matters. Vendors like Infor that are investing heavily in Cloud and Big Data know there is still the need to maintain functional excellence in their offerings. No matter how advanced your technology if you can't solve the clients' problem you are not likely to be their supplier.
Dan Miklovic and Jason Kasper had a briefing this week with Infor on their February 26th release of Infor EAM V11.2. Infor continues to invest in their primary EAM solution, keeping it current with what the market is demanding in terms of mobility, enhanced user experience, and has expanded language support for more countries, reflecting continued global acceptance of the product. The company has also made incremental functional improvements as well as new capabilities to keep it on-par with other dominant EAM solutions in the market today. They are fully supporting their traditional industries and adding capabilities that make planning an easier task. A few of the key new functional additions are:
Key management functionality

Sets and Consists functionality in support of rail

Mechanics kiosk functionality; particularly suitable for vehicle repair shop operations

Case management functionality; useful for safety CAPA activities or other compliance tracking activities

Contractor support to simplify projects that have contractor labor integrated with staff such as you might encounter in turn-around activities
Cloud deployment percentage is moving upward and the next release will have enhanced Industrial Interenet of Things (IIoT) functionality. Clearly Infor is continuing to invest in EAM and keeping it competitive in the market. Current users of EAM should consider keeping current by upgrading to V11.2 and companies considering a new EAM solution should consider adding Infor to the list of providers they evaluate.
One Metric = One Objective, Leprino Foods Council Presentation
At the recent APM Global Executive Council Meeting we had Nikolaus Despain of Leprino foods as the guest speaker. One point he made really stood out as advice I think all companies should consider when embarking on an APM program.
Nikolaus said the key to his success was focusing in on one metric for each objective he was trying to sell to management. That way they could immediately see the results of his efforts, clearly and simply. It is advice that makes a lot of sense. If you overwhelm management with too much detail you might lose their support. By tying a single metric to each objective it is much easier to explain your results.
S/4HANA Modernizing and Moving EHS to Cloud on Horizon, SAP EHS Conference
Announced in 2015, S/4 HANA is the next generation SAP ERP product representing a massively simplified environment that can be run in the cloud or on-premise and puts the user rather than the system architecture at the center of deployments.
Last week Pete Bussey had the opportunity to attend and speak at the SAP Conference for Environment, Health and Safety (EHS) Management in Houston last week. The annual event gathered about 100 SAP customers and partners, mainly from asset-intensive and high-risk industries, all focused on SAP's software for EHS management.
At the event it became clear that the ground-up renovation of SAP EHS that started in 2009 is well on the way to completion with the initial release of environmental management in the EHS component extension. SAP continues to stick to that strategy and invest the necessary development resources, albeit at a slower pace than its customers might like.
Secondly, SAP showed the roadmap for the migration of the entire EHS suite (including product safety and stewardship) to the S/4HANA platform and the cloud. This means that EHS isn't lost in the shuffle as SAP bets its future on S/4HANA and the Cloud. Although it won't be simple or quick, current users of SAP EHS solutions should have a reasonable path to the future. In addition, SAP customers shopping for an EHS software solution can have a reasonable expectation that SAP will continue to improve and support its EHS offering.
NEW Research Spotlight on strategies and recommendations for minimizing risk through a migration away from monolithic, single-plant MOM architectures through exploration of Cloud and IIoT technologies that are advancing in manufacturing today.
Categories: Enterprise Quality Management System (EQMS), Cloud, Big Data, Industrial Internet of Things (IIoT), #MondayMusings