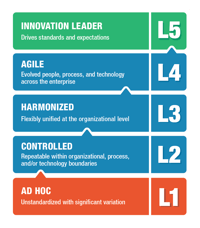 In this weekly Roundup, LNS Research explores recent announcements and events, such as EtQ showing off solution integration; GE releases WIP Solution; chem company earns "Healthy Worksite" certification; and sensors in space with humans.
Tech Integration on Display at EtQ User Conference
EtQ plans to show off a new integration between two keystone solutions at an upcoming user conference. Reliance, the company's enterprise compliance platform, and Traqpath its Cloud supplier collaboration solution will be on display as the Enterprise Quality Management System (EQMS) and Environmental, Health & Safety (EHS) vendor explains how to use the products to connect the supply chain. EtQ reports that the integration provides an automated method to transfer compliance data like supplier corrective actions, and enable real-time responsiveness to resolve issues. The company's CEO says that more integrations are on the horizon. Read the news release about the integration.
Point Solution for Shop Floor WIP, Part of the GE Predix Platform Ecosystem
GE just announced the release of a module that they designed to help managers track products through the manufacturing process. The company says that their tracking tool could help reduce WIP and inventory costs, and improve labor utilization. Manufacturers will deploy WIP Manager as a Cloud solution via the Predix platform. Marc Mailman, a product manager with GE Digital explains that without this product many companies don't know where orders are in the plant without heading to the shop, and that this product could help them get visibility without walking the shop floor. Read more about the product release.
It's a Good Day for EHS as Chem Company Earns "Healthy Worksite" Certification
SI Group is a family-owned maker of chemical intermediates, specialty resins and solutions. It has 20 manufacturing plants on 5 continents with $1.6 billion in annual sales. The company recently earned South Carolina's Palmetto Star Voluntary Protection Program (VPP) certification, a program that recognizes employers that exceed OSHA requirements in providing a safe and healthy worksite. A company representative says that the business partners with employees and local stakeholders in an effort toward Environmental, Health, and Safety (EHS). SI's South Carolina site is the largest certified chemical facility in South Carolina, and one of only about 2,200 sites recognized nationally for EHS performance; their sites in Tennessee and Texas are also VPP Star certified. Read about SI Group's EHS achievement in The Times & Democrat.
Sensors Working Overtime – To Make Humans Play Nice Together?
If mankind thinks it can use sensors to monitor and analyze human interaction from 33.9 million miles away, why wouldn't we use them to make industry better here at home? There's a lot of work being done to get a Mars mission off the ground; some agencies and companies say they'll be ready to launch as early as 2022. Regardless of who's first, scientists agree that Mars is a long way from planet Earth, and crew members won't just be work colleagues – they'll be roommates in close proximity, too.
Researchers say that one way to defuse conflicts is by heading them off with insight about human interaction. A team at Michigan State University has developed wireless badges with built-in proximity sensors for each crew member to wear. The idea is to collect data on how much time people spend near each other, and understand when someone is isolating themselves or avoiding someone. Then, by developing metrics, they can develop an early warning system and resolve problems before a situation bubbles to the surface. Just imagine … a Smart Connected Assets system that helps you avoid an argument with your BFF! Read about scientists and researchers working to support Mars explorers.
---
All entries in this Industrial Transformation blog represent the opinions of the authors based on their industry experience and their view of the information collected using the methods described in our Research Integrity. All product and company names are trademarks™ or registered® trademarks of their respective holders. Use of them does not imply any affiliation with or endorsement by them.