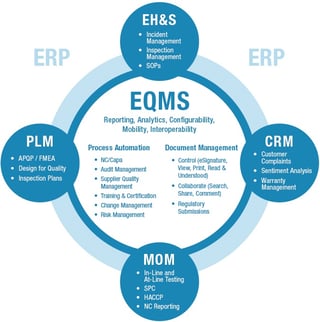 LNS Research explores recent events and news, such as survey results from ABB identifying how the importance of APM in rail is increasing; IQS releases its latest version of next gen EQMS; Amazon Web Services partners with Salesforce to build an IoT software; and OSHA regulations.
IQS Launches Next Gen Technology

Earlier this week IQS, an enterprise quality management company, announced the launch of its newest next generation Enterprise Quality Management Software (EQMS). The new version of the software is built off of its platform, Trubox, also a new addition to IQS.
The press release in which IQS made the announcement specified what features the new software held, and that the new platform allows people to move beyond data management into a state of actionable intelligence. These features include:
Rapid user on-boarding due to mobility and personalization of workspaces

Built-in analytics with "on-the-fly" charts for instant data visibility

Extendable architecture engine for powerful IT expansion and system integration
To read more about the features and thought put into the latest version of IQS's next generation Enterprise Quality Management Software click here.
ABB On-Board for Increasing APM in Rail
As you may have noticed LNS Research Analyst Jason Kasper has been closely following the recent news of troubles in rail in three blog posts:
All blog topics discuss how, with the right people, process, and technology approach to Asset Performance Management (APM), issues with safety and reliability can be mitigated.
Others have recognized issues in rail as well. ABB, a power and automation technology provider, recently conducted a survey among 200 senior executives hailing from major rail operators, where it showed that nearly 80% identify APM as a priority and 75% have seen that priority increase in the past year.
Many of the respondents believe rail would benefit from an IT-OT integration, similar to what Jason details on using Smart Connected Assets and Smart Connected Operations in rail. Following the survey was a comment from Massimo Danieli, Managing Director of ABB's Grid Automation business unit, who said, "This is an ideal use case for the Internet or Things (IoT), Services and People: for example, more sensors and more wireless communications are generating up-to-date information which can be leveraged for asset maintenance and replacement planning." To read more about the results of the survey click here.
Amazon Web Services Partnering with Salesforce for New Cloud Software
Amazon Web Services (AWS) announced earlier this week that is will be partnering with Salesforce, a Cloud software maker valued at $50B. Salesforce will be assisting AWS by building parts of its anticipated IoT software.
All while building these new parts for AWS, Salesforce will also be testing its IoT Cloud, a Cloud-computing service. IoT Cloud, which is said to be available later this year, collects data from connected devices to further provide suggestions to sales and customer service representatives. Although Salesforce works off of its own data center, it has shifted a portion of the data centers to AWS, a public Cloud provider. As more organizations realize the capabilities of Cloud, more have begun to transition, such as Netflix, Airbnb, Expedia, Pfizer, Comcast, and many more. We anticipate this trend to carry over a strong presence in manufacturing as the Industrial Internet of Things (IIoT) and Digital Transformation is extremely prevalent. To read more on AWS and Salesforce joining forces for Cloud benefits click here.
OSHA Issues New Rules to Improve Tracking of Workplace Injuries and Illnesses
The U.S. Occupational Safety and Health Administration (OSHA) has issued final rule to revise its regulations covering reporting of workplace injuries and illnesses, which will require employers in certain industries to submit their already-required OSHA injury and illness data electronically. The agency plans to post data from these submissions on a publically accessible website. The intent is the visibility of this information will encourage employers to increase their safety efforts and performance, and that researchers will be able to analyze the data in innovative ways to help control workplace hazards.
LNS Research Environment, Health, and Safety (EHS) Analyst Peter Bussey commented: "On the surface, providing new levels of transparency to employer safety performance data should be beneficial. Employers may be motivated to improve safety in their workplaces, workers would be able to vet potential employers in terms of their safety records, and visibility to safety performance among supply chain partners should increase. However, the data that will be made available is only one aspect of safety performance, so it should be evaluated as part of a bigger picture. There are also significant data privacy issues to be managed. If the agency gets the implementation right, the new transparency should be a net benefit and provide new insights to improve safety." To read more click here.
Access this NEW eBook, "Manufacturing Metrics in an IoT World: Measuring the Progress of the Industrial Internet of Things," presents results from the fourth iteration of the biennial Metrics that Matter research study conducted between LNS Research and MESA International. It places particular focus on what IIoT means to manufacturers in the MOM space.

Tags: Smart Connected Assets, Industrial Internet of Things (IIoT), Industrial Transformation / Digital Transformation, Asset Performance Management (APM), Enterprise Quality Management System (EQMS)